Noble was started in 1982 by a first generation entrepreneur G. G. Dholaria. He was a technocrat with rare business acumen and astute vision. He Started the unit as a Small Scale Refractory with a capacity of 300 tpm. It produces High Alumina Refractories of Cement, Chemical, Power, Sugar, Petrochemical, Silicate, Glass, Steel and other Non-Ferrous Industries and Cordierite kiln Furniture for Ceramic Industries.
Over the years, Noble has become one of the most progressive units in western India. This is due to constant growth, innovative approach, continuous improvement in products and processes and introduction of new products.
Noble plans to focus more on import substitutes and high end applications in the country. It is already poised to address global markets and will enhance its worldwide presence in the near future. The plant capacity will also be progressively upgraded.
AWARDS & ACHIEVEMENTS :-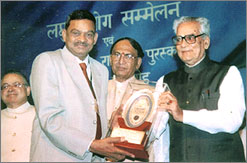 • Product Excellence Award (Gold Medal) for the year 1992-95 by the Indian Ceramic Society
• Product Excellence Award (Gold Medal) for the year 1996-97 by the Indian Ceramic Society
• Accredited with ISO 9002:1994 in 2000
• Accredited with ISO 9001:2000 in 2003
• National Award to Small Scale Enterpreneurs 2001 – Special Recognition conferred by the Ministry of Small Scale
Industries, Government of India, in 2003